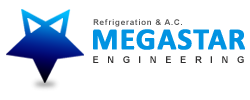 AMC for Refrigeration Systems:
You are dealing with perishables! Don't keep worrying about the smooth running of your Refrigeration system Let the experts Megastar Engineering handles it while you concentrate on your business:
You are dealing in perishables cannot afford to have higher temperatures in the cold room. The cost of material kept in the cold storage is very high.
The Systems performance reduces with time and loose efficiency, absorbs more electrical power resulting in higher electricity bills which drains profits
You can recover most of that lost efficiency through regular maintenance. Studies show that with regular tune-ups a unit will maintain up to 95% of its original efficiency. This means that the cost of a periodic tune -up is recovered very quickly in savings on your monthly power bill and reduced running and repair costs.
You cannot afford to lose time in case of failure.
We provide you with the finest and most comprehensive range of services, to take care of your Refrigeration system. With our experience and expertise, we optimize your system and ensure maximum energy efficiency, perfect air distribution.
On opting for a Service Solution from Megastar Engineering, you avail of the following unbeatable advantages:
TRAINED PERSONNEL:
Our engineers and technicians are intensively trained to handle the costly, sophisticated Refrigeration equipment.
PRIORITY SERVICE:
All customers who opt for our annual service solutions are offered priority service, so that your calls get attended quicker and the system is up faster.
PREVENTIVE CHECKS:
Under all our service solutions, we offer preventive maintenance checks which help in identifying problems early, preventing costly down times.
GENUINE SPARES:
By opting for our service solution, you are assured of genuine spares that will go a long way in ensuring high uptime for your system.
EXTENDED LIFE:
Genuine Spares and regular maintenance help in extending the life of your system.