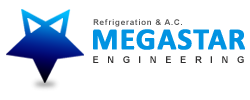 Evaporator Unit:
We use well known brands of various type of indoor cooling units like ceiling suspended, dual discharge, floor mounted, blast freezer type with high CFM fans, pre-cooling units for our projects.
Indoor air coolers, which are designed for both cooling and freezing applications in medium to very large cold rooms. Thus coolers offered in a wide range of capacities, different fan diameters, several type of fin spacing's as per the temperature and application.
The indoor units for all type of Refrigerants H(C)FC, ammonia (R-717), brine applications and DX or pumping type application.

PRODUCTS: