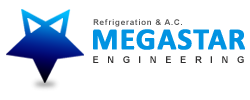 ABOUT US:
Megastar Engineering, Pune was founded in 2007 to provide Cold Storage Solutions to the Perishable Food Industry. Over the next Five years the company worked on building a good reputation with its customers, while continuing to develop and expand.
Megastar Engineering has emerged as a key player in providing Cold Storages ripening chambers and industrial Process chilling application,
Megastar Engineering now specializes in the Design, Engineering, Procurement, Construction, Operation and Maintenance for the Fresh/Frozen Food Industries. Megastar Engineering has gained special expertise in handling turnkey cold storage projects.
Megastar Engineering continues to meet the demands of the customers while providing a quality product and service. With the continued growth of the company and its affiliation with, Blue Star Limited, BITZER, Alfa Laval and Emersion climate technologies; Megastar now offers complete solutions with recent fresh Refrigeration Technologies for your need.
Mr. Arun Chaudhari, who worked in this industry for almost 18 Years, has joined them to back up their plans to focus and concentrate on Project business of the cold storage and Refrigeration industry.
Mr. Pankaj Khairnar joined the team with expertise in Ammonia Refrigeration and Screw Compressor technology. Pankaj while working in BITZER India for more than 5 years strengthened his knowledge and skills in this field. He is in this industry for more than 15 years.
SERVICES PROVIDED BY US:
Cold Storages
Blast Freezer
Quick Chill rooms
Frozen Cold Storage.
Low Humidity cold storage for seeds, films, Electronic equipment and chemicals
Cold Storage with flame proof equipment for Chemical storage.
Banana Ripening Centers
Turnkey Projects in cold chain including Pack House ,PEB, Material Handling Systems, Grading and sorting line.
Process chillers - Freon/ Ammonia
Material Handling Systems - Dock Leveler, dock
AMC for Refrigeration systems, Chillers
PRODUCTS: