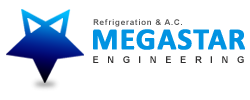 Cold Rooms:
Megastar Engineering provides one of the finest cold chain solutions to preserve the product. Megastar is experienced in providing the turnkey cold chain solutions to the industry in the field of preservation.
We offer cold rooms in various models and capacities as per the needs and requirements of our clients. There are specially designed cold rooms, especially for use in places that require efficiency and hygiene.
We have done several projects in following segments:
Agriculture and Horticulture
Fresh fruits and Floriculture
Seed storage
Dairy
Frozen Foods - Meat, Fisheries and Poultry
Pharma
Hospitality and Restaurants
Industrial Canteens
Ice Cream - Storage and Hardening
Chemical Storage - Flame Proof application
Films Storage - Low humidity cold storage
Logistics warehouses.
Banana / Mango Ripening
Hospital and Blood Banks
Mortuary
With keeping this in mind and to avoid temperature loss, we ensure perfect insulation; the PUF panels are which packed with high density foam. While selecting a Cold room, you require a supplier who would design as well as install the Cold room according to your particular requisites, with minimum possible interruption to your business.
Megastar uses the reputed brands of PUF panels in thickness of 60mm, 80mm, 100mm, 120mm and 150mm as per the temperature requirement.
Megastar provides Indigenous as well as imported equipments of all the required capacities for positive and negative temperature application.
Providing solutions in FREON as well as in AMMONIA as per requirement and application.
Megastar Engineering offers turnkey solutions such as Pre-cooling, Blast freezer, IQF, Controlled atmosphere/Modified atmosphere cold stores.

PRODUCTS: