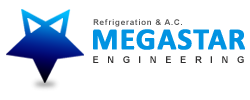 Services:
Engineering activities AND supply, installation, testing and commissioning of following work can be undertaken by us:
Civil construction relating to cold storage requirements including utility/processing areas, grading, sorting & packaging areas, office complex .
Pre Engineered Building (PEB) - For warehouses and cold storage plants.
Electrical installation for the storage facilities/shed, office complex, utilities, external lighting. Provision of transformers, incoming & outgoing panels, utility panels, wiring, earthling, PLC system and DG Sets, Fire alarm & fighting etc.
Utilities like water supply, steam, compressed air and related piping systems.
Raw material and finished goods storage including its need for cold storages.
Insulation work for the cold Storage & other related areas.
Refrigeration equipment, plant and machinery. Pre cooling Units. IQF, Blast Freezers, Incubators etc.
Low Humidity and flame proof refrigeration units for Cold Storages.
Banana Ripening Systems including C02 ventilation and ethylene systems.
SERVICES: